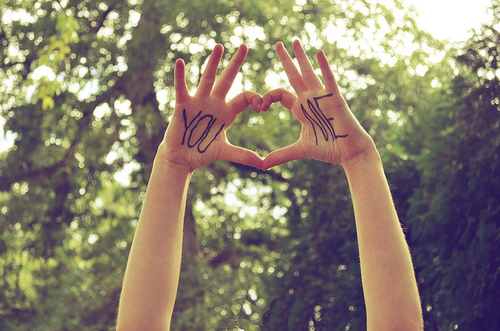 1. where did we meet? We had known each other for several years from the bebo and msn days before finally meeting up in 2013.
2. what was our first date? He came to my house, we played Fifa and had a takeaway and drinks and still to this day - the best night of my life.
3. where was our first kiss and how was it? I had a spider-man obsession back in 2013, I kept watching all of the movies - He gave me a spider man kiss (upside down) the same night we met, It was the perfect first kiss.
4. did you know that he was the one? - Considering we loved each other before we even met, Yes I knew he was the one and then he went and bought me a bunch of flowers - I always said the one that brings me flowers would be the one, but other reasons too, yes I knew. My heart Knew.
5. first impression? Everything I'd imagined only 100 times better. Obviously I'd known him a long time and saw pictures and video's of him but when we met it was so much better to be able to see him in person.
6. when did you meet the family? - It was about 3 or 4 weeks after our first meet. It was so nerve racking but they're the sweetest. I was made to feel welcome from the start.
7. do we have a tradition ? Yes, For the first year of our relationship on the 7th of every month we would do something special together and send each other long romantic messages, now, we spend every September
7th together celebrating another year together.
8. what was our first road trip ? I didn't drive when we first met so the first road trip would of been this year actually, we went to Towyn in wales and visited Colwyn Bay too. It was amazing!
9. who said I love you first and where were you ? - We had a weekend off because we both had the flu and out of nowhere I received a long message on whatsapp saying that he loved me with a bunch of other beautiful things that made me do the happy dance and also cry. He sent it on 30th September heading into 1st October. (is it weird
that I remember every detail?)
10. what do we argue about the most ? Luckily, Me and Scott never argue! There has been times where we have argued a lot when we both decided to quit smoking but apart from that, we get on really well. I wouldn't say argue, but we can wind each other up but then laugh about it later.
11. who wears the pants in the relationship ? - I think we're quite equal, we both respect each others feelings and understand each other, no one really plays boss. we decide on things together. A relationship is suppose to be two people, we work through everything together.
12. if He's sitting in front of the TV what is he watching ? - If it's not a live football match, It's sky news or the crime channel C.I.
13. what's the one food he doesn't like ? - I've never known him to not like something really, but I do know he doesn't like caramel.
14. If you go out to drink, what do you have? - We don't go out to drink unless we're sitting on a fast food car park, then it's coke or milkshake aha!
15. What's 5 things you love the most about him? I love a lot about him but If I had to pick 5 it would be, His thoughtfulness, Honesty, his cuddles, The fact that he knows me better than I do and the last ones a secret. get out of here!